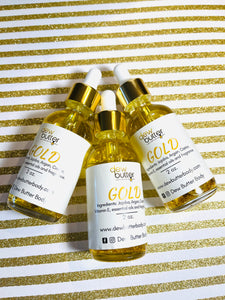 This golden formula is packed with all natural oils to stimulate hair growth. Recommended use 2-3 times a week.
Benefits:
Stimulates hair growth
Nourishes scalp
Adds shine without the greasy feeling
Ingredients

JOJOBA OIL - Moisturizes the scalp and a dandruff remedy. Jojoba is rich in vitamins and minerals that nourish the hair, including vitamin C, B vitamins, vitamin E, copper, and zinc.
ARGAN OIL -  Moisturizes your hair AND scalp and protects from everyday damage. Reduces breakage and split ends . Great for heat heat damaged , color-treated , and chemically processed hair.
SWEET ALMOND OIL - Great for flaky scalp and scalp psoriasis.
CASTOR OIL - Encourages a healthy scalp and helps with blood circulation in the scalp to stimulate growth.
Vitamin E - Helps support a healthy scalp and hair as it has natural antioxidant effects that could assist with maintaining hair growth.